Wood poles are popular and widely used to carry electric power lines due to their high strength per unit of weight and durability when properly treated and maintained. Wood is a natural biological material, though, and is therefore susceptible to fungal and insect attacks.
Conducting systematic, professional inspection and treatment of your wood poles helps protect your investment, and ensures that you're getting the longest service life possible out of your pole inventory.
ALAMON UTILITY POLE INSPECTION SERVICES
Alamon's trained inspection crews provide many types of inspection and treatment services, which are implemented as part of a custom inspection program. Multiple variables will affect how a particular inspection program is structured, including (but not limited to) wood species, soil conditions and climate.
Pole Survey
Baseline Pole Health Assessment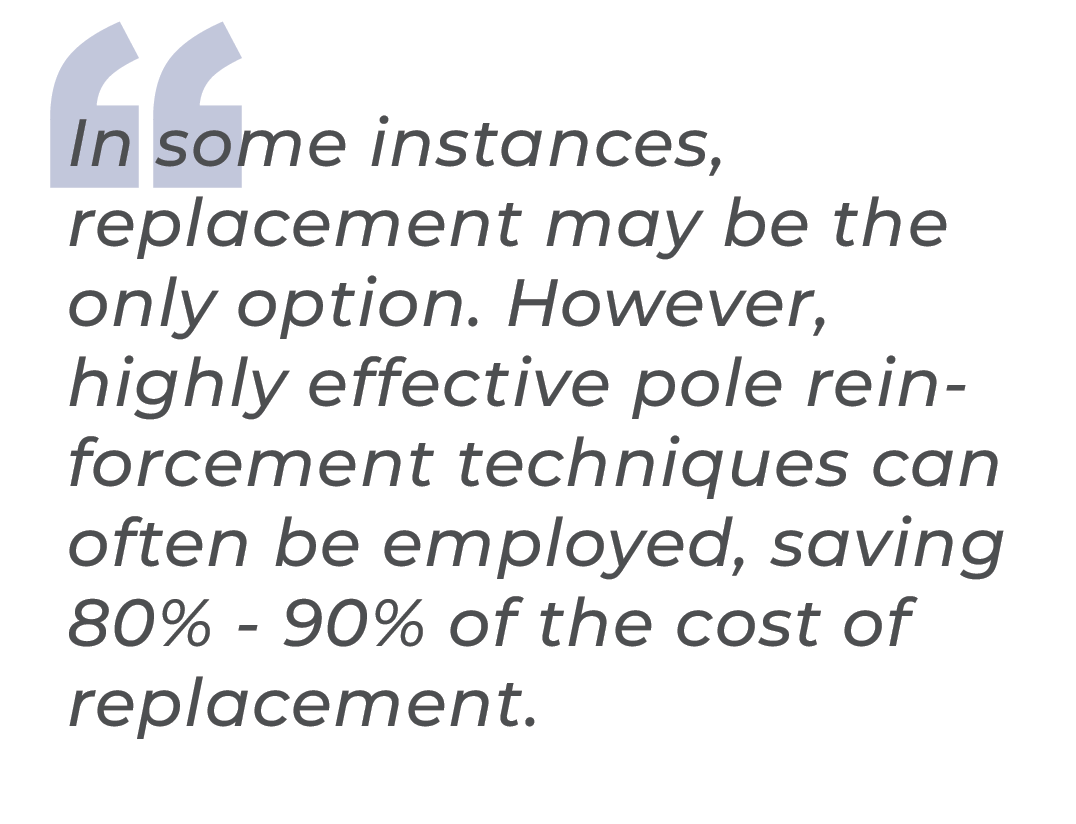 As data from a pole inspection project is gathered, pole health is being evaluated. It's extremely important to accurately assess the deterioration and degradation of each pole, and determine whether it can safely remain in service. Compromised poles put both system reliability and human life at risk.
REINFORCEMENT VS REPLACEMENT
When your inspection data reveals deficient poles, the costs of replacement can be staggering. Depending on location and accessibility, pole replacement costs can range from $10,000 to $20,000 and beyond.
In some instances, replacement may be the only option. However, highly effective pole reinforcement techniques can often be employed, thereby saving up to 80% – 90% of the cost of replacement while dramatically strengthening and extending the service life of the reinforced poles.
Experience the Alamon Difference
Alamon is a different kind of inspection provider. We are an employee-owned, customer-focused company that is always looking for the next opportunity to prove ourselves. Get a project quote from us today, and let us show you why we're the utility pole inspection company you can trust.
Alamon works hand in hand with clients to provide cost effective utility pole inspection programs custom-tailored for specific pole species, climate, and state regulatory requirements.
Alamon's Pole Reinforcement programs help restore poles to code mandated strength requirements at a fraction of the time and cost of pole replacements. Reinforced wood poles with remedial treatments can remain in service for years to come, greatly extending the original life cycle of these valuable assets.