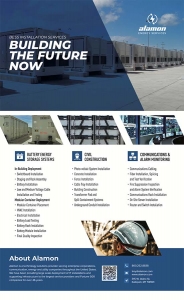 Alamon's specialized teams work with Utility companies to keep the power on when it's needed most. Our technicians are assisting with energy projects ranging from Energy Storage to SCADA Support. Our broad range of skills can help your company deliver projects with the highest quality standards.
Call 800-252-8838 today and ask us about:
Fiber Installation
Fiber Testing
Cat5e/Cat6 Installation and Certification
Low Voltage Cabling
Battery Installation
SCADA Controls
Download our BESS Services flyer for more details.
About Alamon
Alamon is a technology solutions provider serving enterprise corporations, communication, energy and utility companies throughout the United States. We have been providing large scale deployment of IT installations and supporting infrastructure to the largest service providers and Fortune 500 companies for 47 years.