The Expansion of Renewable Energy Resources
One of the most significant shifts in the mix of U.S. electricity generation over the past few years has been the rapid expansion of renewable energy resources, especially solar.
The U.S. electric power sector operated about 74 gigawatts (GW) of solar photovoltaic capacity at the end of 2022, which is about three times the capacity at the end of 2017.
Based on planned additions reported to the U.S. Energy Information Administration, solar capacity will expand another 63 GW (84%) by the end of 2024.*
Solar Share (%) of Total U.S. Electricity Generation
Much of the growth in solar capacity is happening in Texas and California, two states where Alamon Energy Services is licensed to perform turnkey services for Commercial and Industrial scale Photovoltaic, Battery Energy Storage, and EV charging station projects.
Alamon's varied infrastructure skillsets (DC and AC power, low voltage, civil construction) and decades of workforce deployment experience enable us to provide our customers with top-level quality and service. From new construction work focused on production, to projects in existing facilities where minimal disruption to operations and infrastructure is the top priority, Alamon teams expertly deliver results.
As the growth in renewable energy generation continues to accelerate, so do Alamon Energy Services' plans for expanding the states it serves. Idaho, Utah, Colorado and Wyoming are among the states we will soon be pursuing licensing and opportunities in.
There's never been a better time to discuss your renewable energy project with Alamon, the infrastructure services provider that is building the future now.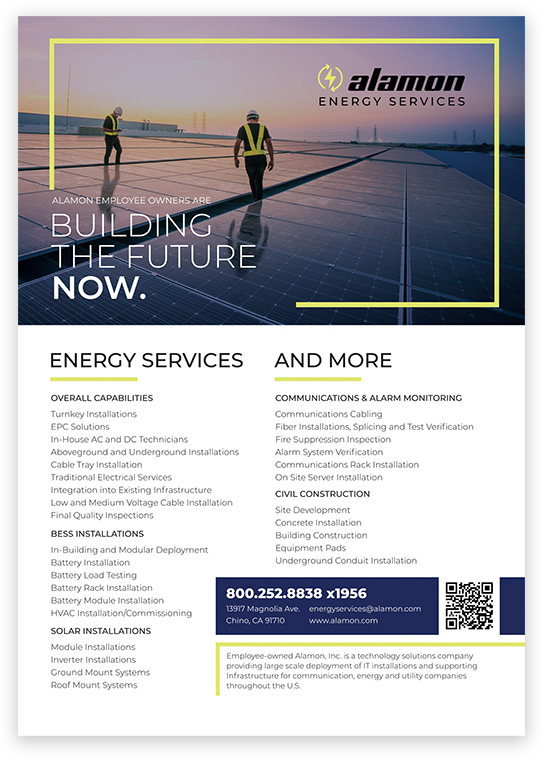 Download our Energy Services flyer, detailing the full list of our Renewable Energy project capabilities.
*Data source: U.S. Energy Information Administration, Short-Term Energy Outlook (STEO)
Alamon's Renewable Energy capabilities include Turnkey Installations, EPC Solutions, AC and DC Technicians, Battery Energy Storage System Installation,  EV Charging Station Installation, Solar Module and Inverter Installation, Communications and Alarm Monitoring Systems Installation, and Civil Construction Services.
Alamon is currently licensed to perform Turnkey Renewable Energy Project Installations in California, Nevada and Texas.  We are pursuing additional licenses in Idaho, Utah, Wyoming and Colorado.