At Alamon, our Utility Services field teams criss-cross the U.S. inspecting thousands of wood utility poles each week and recording data for each pole. The data collected differs by project, depending on the customer, state regulations, and countless other variables.
Given the nature of this work and the amount of data our customers need, it is essential for us to have a robust, flexible and customizable platform for large-scale data collection and management – that also offers the ability to manage the remote workforce responsible for collecting the data.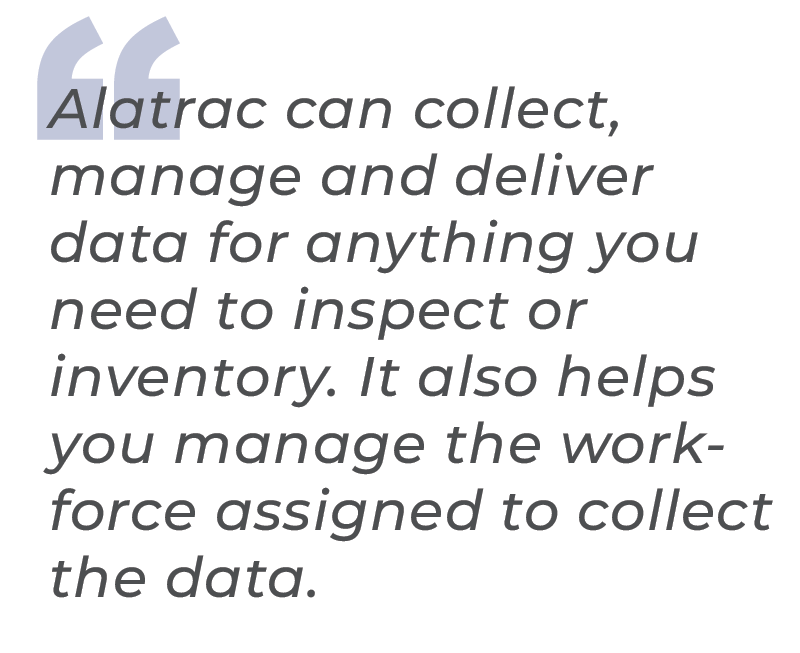 Fortunately, we have a technology/software team with big brains (and we mean really big brains) plus years of real-world experience refining what we humbly believe is one of the best mass data collection tools available, Alatrac.
While it has been used by our Utility Services teams to collect and deliver millions of highly accurate pole inspection records, Alatrac effortlessly gathers and handles large amounts of data from across the spectrum, regardless of what that data pertains to. Yes, it is a stellar utility pole inspection platform, but Alatrac can collect, manage and deliver data for anything you need to inspect or inventory. And we said this previously, but it bears repeating, Alatrac also helps you manage the workforce assigned to collect the data.
It may have been designed by our biggest brains, but the beauty of Alatrac is that it is specifically built to be easy to use for everyone.

Here are a few ways that Alatrac can make the complex task of large-scale data collection effortless for your organization:
Seamlessly Collect Mass Data:
Say goodbye to tedious manual data collection! Our platform effortlessly gathers large amounts of data from across the spectrum, providing you with insights that elevate your decision-making process.
Intuitive Interface:
No tech wizardry required! Our user-friendly interface ensures that anyone from novices to tech-savvy pros can navigate the application with ease.
Dashboard Excellence Powered by Quicksight:
Elevate your visualization game with state-of-the-art dashboards powered by Amazon Quicksight. Real-time data interpretation has never been so accessible and insightful.
Custom Forms, Your Way:
Tailor your data collection forms to suit your unique needs. No more rigid templates—our platform empowers you to create forms as unique as your business.
Thousands of Locations, One Action:
Upload tens of thousands of data collection locations in a single, swift action. Save time, streamline processes, and focus on what truly matters.
Assign Inspectors, Effortlessly:
Manage your data collection workforce effortlessly. Assign inspectors, track progress, and ensure accuracy, all within a few clicks.
Data Integrity:
Using our platform, you are able to validate the data gathering locations and actions resulting in evidence needed for proof of where and when inspections were completed.
Contact us about Alatrac
Schedule a conversation with our software team to learn more about Alatrac.
"*" indicates required fields